This is a story about a love that was meant to be.
A love that I wasn't looking for and took me by surprise.
It wasn't my usual thing yet it came together so wonderfully and I simply adore it.
I am of course talking about my Faded Love Shawl.
Now, I'm not usually a vintage type girl. I admire beautiful, delicate, intricate vintage pieces but I'm more of a modernist, beachy girl and this was the direction I was trying to head when the Faded Love Shawl came into being.
I was working on a design inspired by the lovely new blue in my favourite cotton yarn. This colour Arctic, in combination with Parchment and Sky, made me think of a standing on a tropical beach looking out over the ocean and I was trying to recreate that feeling in a scarf.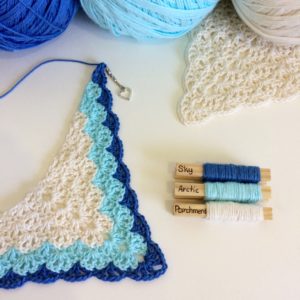 The first step was finding a light but slightly textured stitch to represent the sand and I was playing around with shells. I love the look of shells as they are slightly wavy and interlock with each other very nicely but I wanted to make it more airy. This led to the lacy shell and when I tried a larger hook with the yarn I knew I had my stitch pattern.
At this point I did a test with all 3 colours and it wasn't quite right. I felt that the colours for the Tropical Island scarf weren't supposed to go with this stitch pattern.
A test of the edging in blue reinforced that feeling.
A new colour palette was in order!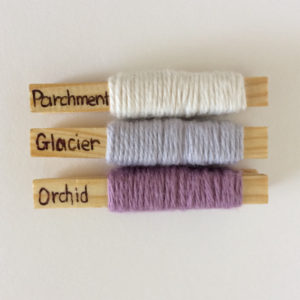 Out came the yarn pegs (don't you just love yarn pegs!) and I played around until I found a combination that I felt was right for this stitch pattern.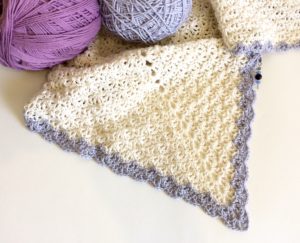 Now everything felt right. The stitch, the colours and the edging all fell into place. It just needed a name.
As I completed the first colour change I began to see the final piece in my mind and it reminded me of a well loved piece that has faded over time. Like a shawl that your nanna made and you loved to play dress ups with as a child. It felt grown up and nostalgic, and the name Faded Love has the right romantic ring to it.
And so here is, the Faded Love Shawl in all its glory.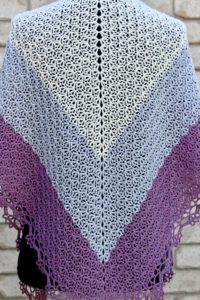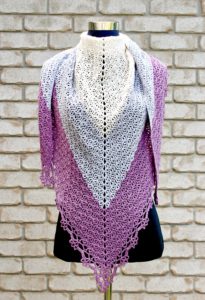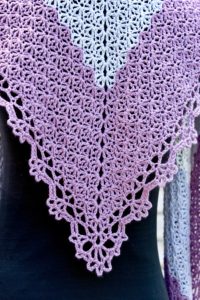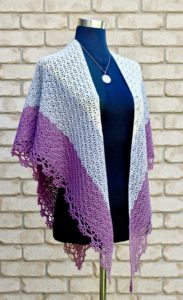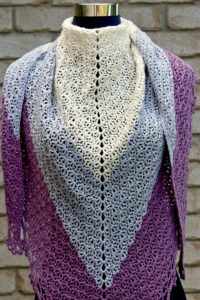 It wasn't something I set out to create but I love that it chose me to create it and I hope that you love making one too.
Pattern is available through both Ravelry and Etsy and includes a full photo tutorial (36 tutorial photos!), charts for both the body and edging, and clear concise written instructions with a layout designed to make it easy to follow.
Details:
Designed as a shawl through you can also wear it as a large triangle scarf.
Size it is approximately 170cm (67 inches) wingspan and 80cm (31 1/2 inches) from the top to the centre point.
Centre top out construction so you can stop when it gets to your desired size or you run out of yarn.
Skill Level: Easy – Intermediate (stitches used: double magic circle, ch, sl st, sc, dc, tr)
Yarn: any fingering weight yarn. I used Bendigo Woollen Mills 4 ply cotton in Parchment, Glacier and Orchid colourways.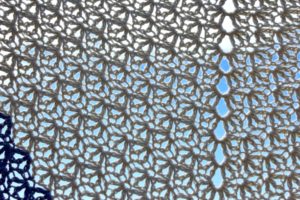 If you're working on a Faded Love of your own, I'd love to see your progress, so tag me, share with #FadedLoveShawl on Instagram or Facebook, or link your project on Ravelry.
And always if you have any questions feel free to contact me anytime!
P.S. If you're wondering about the Tropical Island scarf, stay tuned because a new idea for that is in the works!