I don't know about you but I fell in love with ALL the fade shawls that knitters were making (Find Your Fade I'm looking at you! 😆 ) and wished I could knit so that I could make one too. I have even started learning to knit (you can see my beginning attempts in my post Creative Pastimes – Knitting) but honestly crochet is my first love and I knew I had to design one for all my crochet friends out there!
To be even more honest, this design kicked my bum for quite awhile! I went back through my photos and the earliest version of the Daydreamer Shawl was from June 2017!!! Apparently getting it to work from a single point wasn't as easy as I first thought and so this shawl had quite a few failed attempts before it clicked and I got the shape to work without needing harsh blocking. The photo below is from the day I got it to work (so exciting) and you can see some of the many incarnations that didn't work.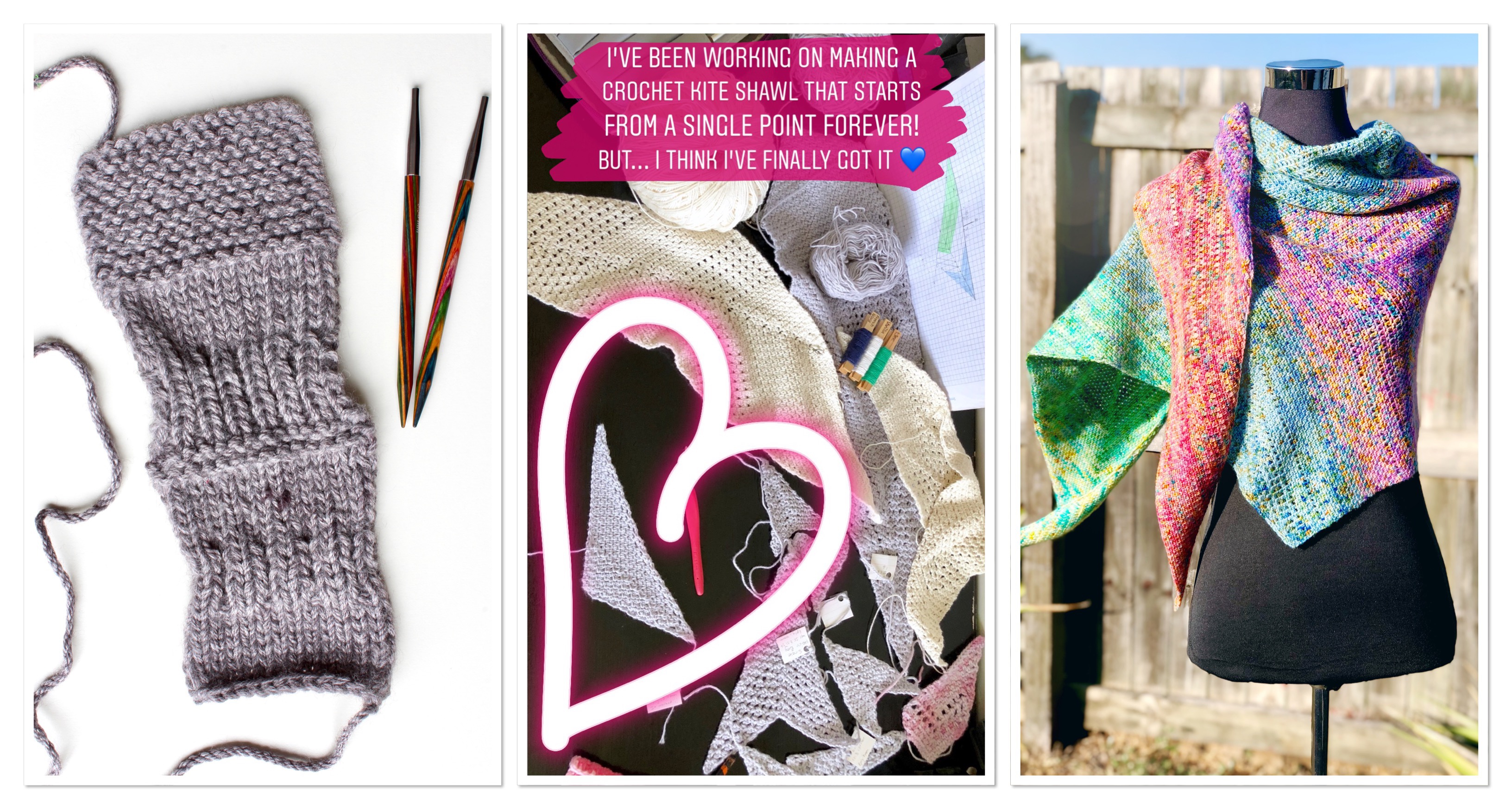 This shawl starts with just 3 chains. That's right – 3!
So no long starting chain that you have to count and stitch into. Just 3 and you're off and running, or rather crocheting. And this is a great shawl to work on at any time. It's cruisy enough to make whilst out and about or watching tv but also interesting enough that you don't get bored (which is a real problem for me). It kept me going watching the colours unfold and just when I was getting over that, I'd reach an eyelet section, bringing in some needed change. Then it was onto the next colour change and next thing you know you're on the last section and your shawl is almost done!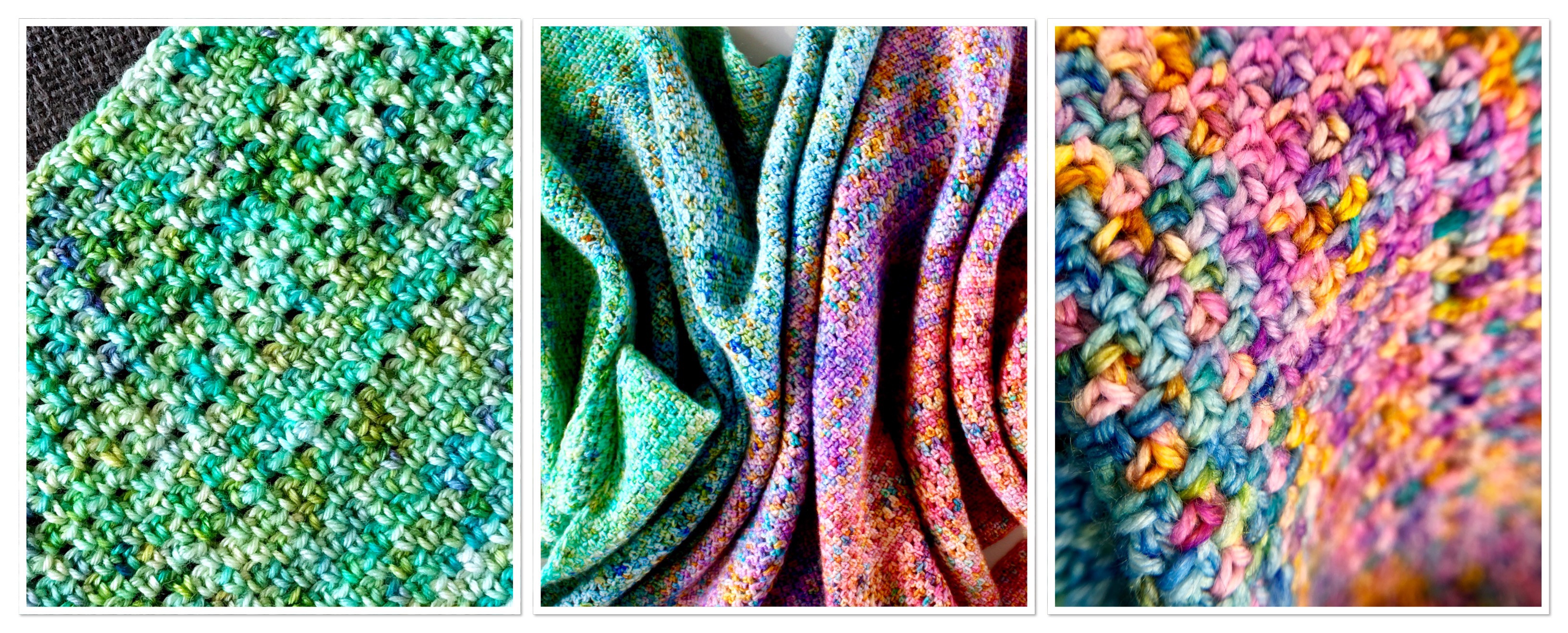 And of course then there's the fun of choosing your yarn. I played with so many different beautiful combinations before I found the yarn that really spoke to me. As soon as I saw the vivid colours by Kylie of Fiber Lily I knew these were the ones to bring my vision to life. I ordered 4 rainbow speckled skeins and they were even more wonderful in real life. Then I was lucky enough to win a one of a kind skein (OOAK) which fit into the fade perfectly, so I had 5 gorgeous colours, a design that worked and the Daydreamer Shawl was finally no longer a daydream.
If you're looking for some colour inspiration, check out #daydreamercrochetshawl or my amazing testers' feeds on Instagram (links below) or head to Ravelry to see what projects people are making.
Whilst we're talking about my testers I just want to say a huge thank you to the lovely people who helped make this pattern as fabulous as it could be. You all went above and beyond with your assistance and I am so grateful to count you all as friends 💕 So thanks Stephanie – @stephanie_makes, Dani – @twistedsummit, Amandine – @amandine_droullon, Tamika – @precious_hearts_handcrafts and Belle – @bellemai and @shirleysknits.
I'd also like to show my appreciation for Emma of Emma Wilkinson Designs for her fantastic suggestions and mentoring – you are a gem and I'm so thankful for your friendship.

Now because I know not everyone wants a ginormous 2.4m long shawl made from fingering weight yarn, I have also designed this to work with DK weight yarn and make a smaller scale scarf. With the thicker yarn and only 3 sections instead of 5, the smaller version works up super quick but is still a snuggly scarf for little ones and grown ups alike at 1.8m long. I made my son's scarf from my favourite cotton by Bendigo Woollen Mills and it has a fabulous colour block, more masculine look.
You can play with different yarn weights and these 2 versions to make the scarf of your daydreams – try a worsted or light bulky weight with the small version for a bigger and chunkier version of my son's scarf; a 5ply or sport weight yarn with the large version for a truly huge shawl that you can wrap yourself up in; what about a lace weight yarn with a bigger hook for a more ethereal 5 section one; or as one of my testers is doing use a worsted weight with the 5 section pattern to make a stunning throw for your couch (awesome idea Stephanie @stephanie_makes).
So let your imagination run wild, throw away the "rules" and make the shawl of your daydreams.

Daydreamer Shawl Crochet Pattern
Includes Large and Small size, tutorial photos, full written instructions and row by row tables with stitch counts designed to be printed out.
Etsy: https://www.etsy.com/au/listing/695447363/crochet-pattern-daydreamer-shawl-fade?ref=shop_home_active_1
Ravelry: https://www.ravelry.com/patterns/library/daydreamer-shawl
The Daydreamer Shawl is the answer to my obsession with the kite shaped fade shawl designed for crocheters and I can't wait to see what colours you've been daydreaming about 💕
Share your makes as a Ravelry project or on social media with the hashtag #daydreamercrochetshawl or #daydreamershawl or just have a browse for some inspiration!