Wow! It's February. How on earth did that happen?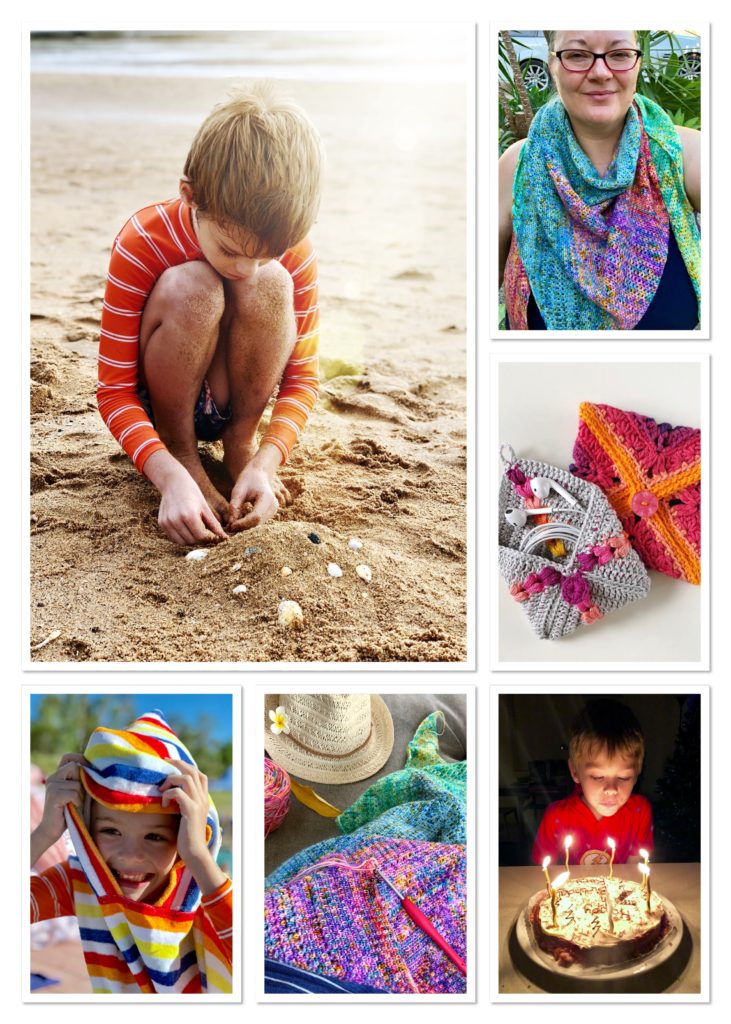 I honestly feel like it was just the end of the school year and now a new one has begun.
My little man is now in Grade 1 and the summer holidays are over. Life has started to return to its normal routines and it has got me reflecting on all the things I've been up to lately.
So I thought I'd share a few of them and give you an update on what's been happening crochet wise. I'd love to hear what you've been up to over the summer/Christmas break, so let me know below or send me an email.
First up, Christmas. As you may know I live in Ipswich, Queensland, Australia but I'm originally from a town called Echuca in Victoria. My partner's family also lives in Victoria, so every year we drive to Victoria to visit our families at some point and this year we headed down for Christmas. We let Santa know where we would be and spent a lovely (but hot) Christmas at my Mum's house in Echuca before heading to Gippsland (which was cold) to see my partner's family at New Year's Eve.

We saw fireworks on the beach, went swimming, I crocheted, saw the wonderful Christmas light display down Illawarra Drive in Echuca, we relaxed, helped build some kitchen cabinets, visited the Dubbo observatory (we got to take a photo of a nebula!), went to the Melbourne zoo (thanks Dad 💕), had some amazing pizza at D.O.C. Pizza and Mozarella Bar in Carlton and caught up with friends and family. A varied and busy trip as usual but we all had a lot of fun.

After we returned home it was my son's 7th birthday, we went swimming again (gotta love the Orion Lagoon in Springfield), caught Konmari fever (who hasn't!?!) and got our son ready for the new school year.

During that time I of course have been crocheting. Mostly I worked on my Daydreamer Crochet Shawl but I also took a little break from that to try out one of the amazing patterns by Celine of @crafty_cc for the Granny CAL run by @allcrochetpatternsnet.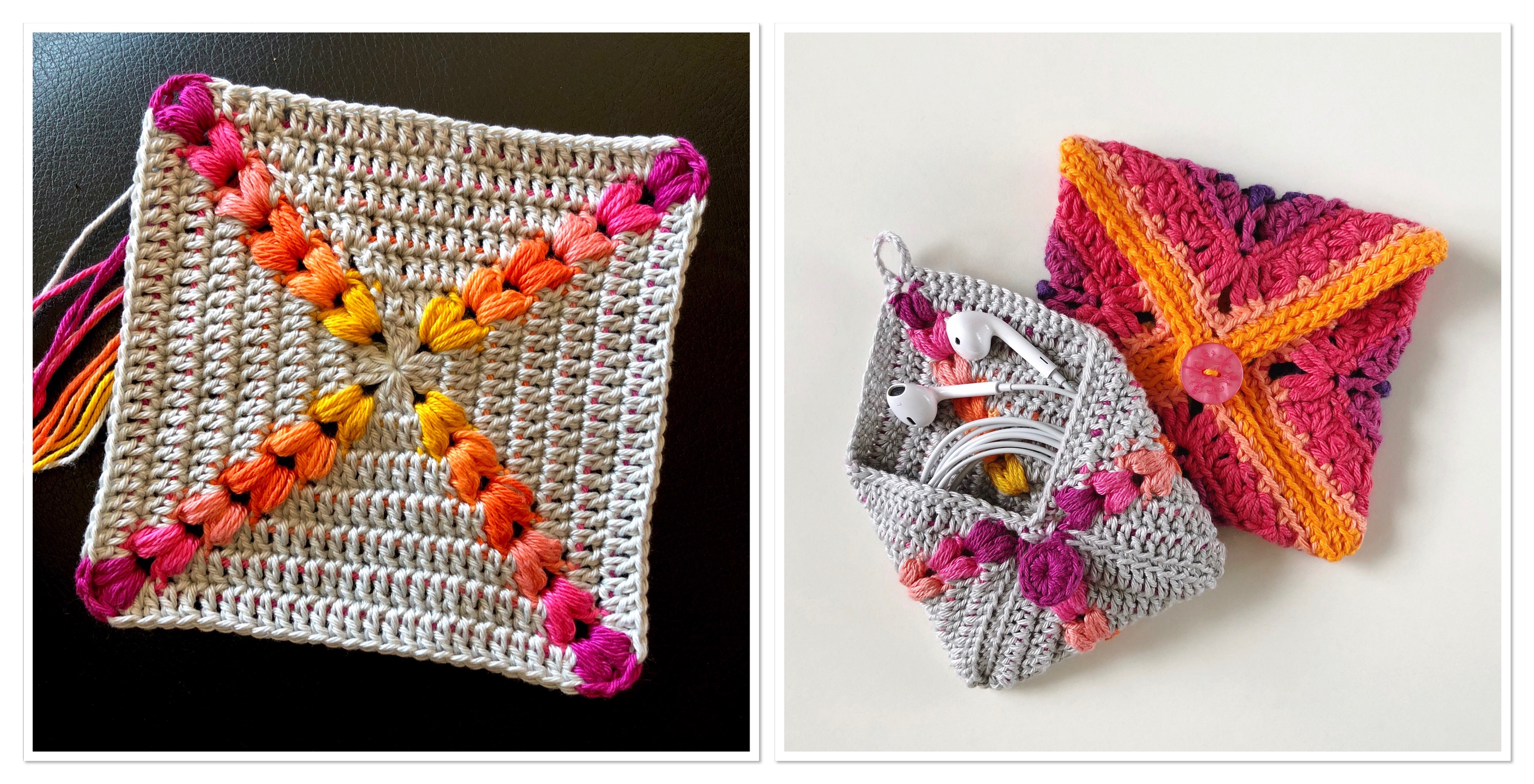 My first pick was the Rainbow Puff Square. The pattern is beautiful, well written and a joy to make. Here's my version and here's what I used the square for – a little pouch for my ear buds! (*tutorial for pouch here!) If you don't follow Celine on Instagram I highly recommend it if you love all things rainbow 🌈
And my shawl… it has been my constant companion for the last couple of months. 253 rows in gorgeous Fiber Lily yarn. Every stitch was fun – watching to see what colour the next stitch would be, the simple stitch pattern soothing to make, seeing my newest design baby grow and finally seeing my vision made real.

I have shared the progress on Instagram but here are a few of my favourite progress pics and a quick snap of the finished shawl (I haven't had a chance to take the super pretty pics yet).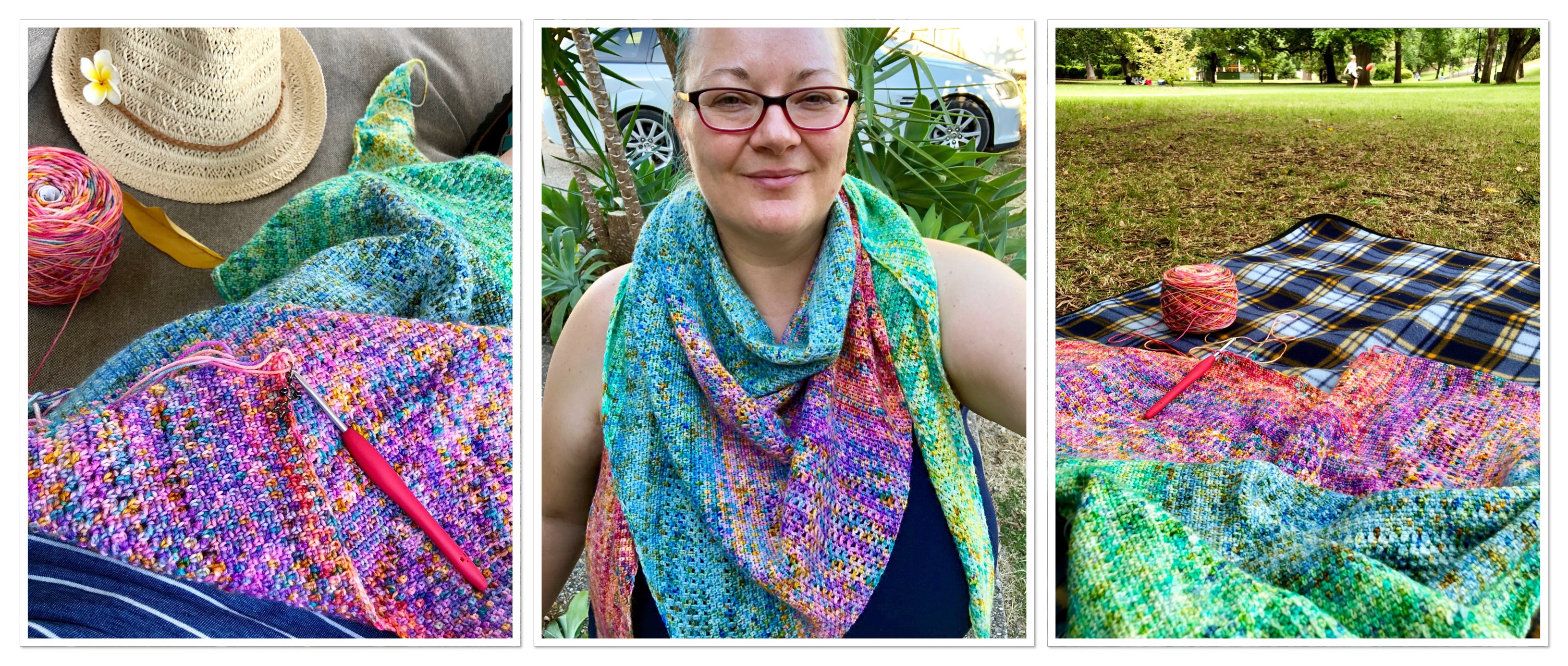 I am now working on the pattern so I can get it out into the world as quickly as I can. If you are interested in being a tester, keep an eye out on Instagram as that's where I usually post my tester calls @vividkreations. Hint – I'll be asking what colours/yarns you've been daydreaming about using as a part of the tester application so dive into your stash and see what combos you can come up with!
Now I'm a little lost as to what to work on next. My 2 biggest projects of 2018 (the Sundae Kimono Cardigan and Daydreamer Crochet Shawl) are both in the pattern writing stage and my hook is sitting idle. I have a heap of ideas and designs swirling around my head but I haven't settled on what to do yet.
What would you prefer to see next?
A bag (I have ideas for another produce bag and a larger tote/beach bag)?
Or a scarf/shawl (I have quite a few of these as they are my favourite thing to design)?