So many yummy yarns, it was hard to even know where to start. 
I ordered a selection of yarns to try a little while ago (that didn't even scratch the surface or what is available) and then proceeded to stare at them and squish them for ages but still wasn't sure what I was going to do. 
After a bit more staring and squishing, I decided that a slightly scientific approach might be the best so that I could compare the bases and decided which ones I wanted to work with in the future. 
To that end, I split each sample skein into 2x50g skeins and decided on two of my exisiting colourways to dye. I chose Summer Rainbow because being able to blend those transitions is important for my style of dyeing and Galaxy because it has bold colours and speckles and I wanted to see how each base performed with those. 
Next I separated the bases into two groups: protein based yarns and cellulose based yarns. 
What are protein and cellulose based yarns and why separate them? 
Well, it has to do with what the yarn is made of which changes the way they need to be dyed.
Protein fibres come from animals (think wool, alpaca, cashmere, yak, etc.) and need to be dyed using a low pH/acid, acid dyes and heat.
Cellulose fibres come from plants (cotton, linen, tencel, etc.) and need to be dyed using a high pH, fibre reactive dyes and time.
There was one base that ended up in both groups as it is made of 50% wool and 50% cotton and I wasn't sure which way to go with that so I decided to try both.
So, now I had my groups it was time for the fun part - DYEING!
I got my yarn soaking and made my dyes then had a lovely afternoon putting beautiful colours onto new yarns. 
I set my protein fibres to heat set and popped my cellulose ones aside to 'batch' overnight (I usually aim for at least 24 hrs). I was pretty nervous heat setting some of the bases but everything seemed to come out ok. 
And here's the bit I'm sure you've been waiting for… the results!
---
Dyeing methods
Bases dyed with the protein fibre method: Silky 50/50 DK; BFL Platinum HT Sock; MCN Sock; Natural Fluff 4ply; Wool Cotton DK and 4ply.
Yarns are soaked in citric acid and water, fibre reactive dye (used as an acid dye) applied then heat set in my bain marie until the water cleared.
Bases dyed with the cellulose fibre method: Vegan #1 Blend; Tencel DK; Pima DK Air; DK Pure Cotton Yarn; Cupro; Wool Cotton DK and 4ply.
Yarns are soaked in soda ash and water, fibre reactive dye applied and then batched for 24hrs.
Silky 50/50 DK
50% SW Merino, 50% Silk
The first thing that hits you with this yarn is the shine from the silk and then when you pick it up it feels like that shine - silky and smooth. The colours blended beautifully though they came out more muted than I expected. They also have this metallic sheen which is gorgeous. The speckles are a little softer but still nice and defined.
BFL Platinum HT Sock
80% SW Bluefaced Leicester Wool, 20% Nylon
This yarn has vivid colour and lovely sharp speckles. It was easy to dye and the colour blended nicely with good penetration. It's not as soft as the Platinum sock I currently use but the stitch definition is great when knit up and it feels like it would wear well for a long time.
MCN Sock
80% SW Merino, 10% Cashmere, 10% Nylon.
This base is lovely, squishy and soft with the extra softness from the cashmere. The colours are bright and rich though some more care needs to be taken to ensure the dye penetrates the skein as they sample has quite a few unintended white patches. The speckles are sharp and the black came up deep and really black. Blending the colours was challenging but with some new techniques I've been working on I think it will come up better next time.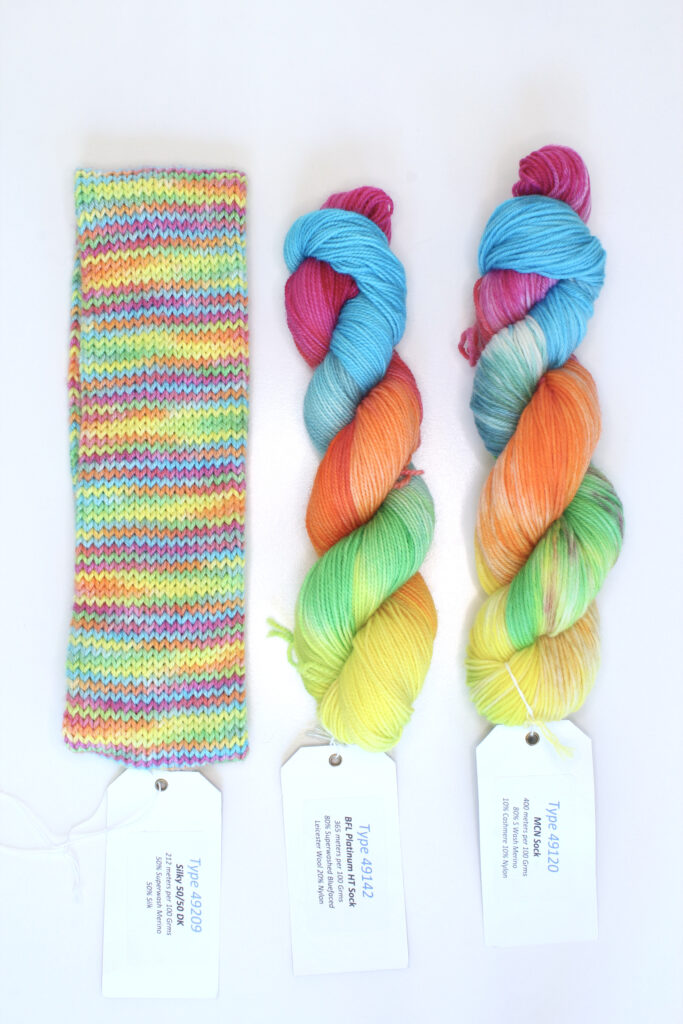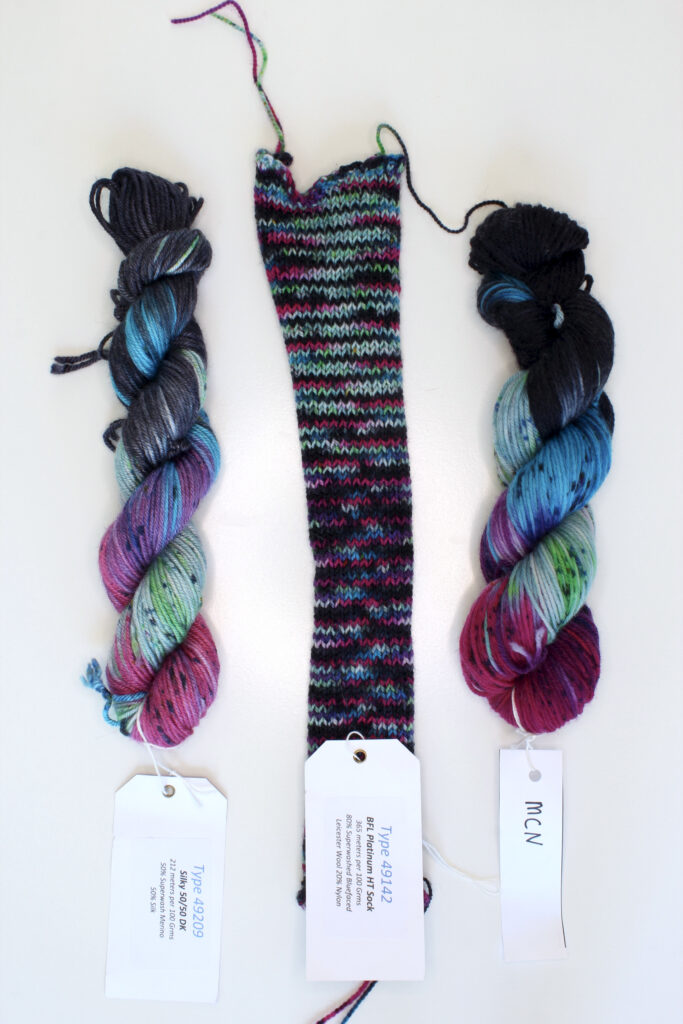 Natural Fluff 4ply
38% Baby Alpaca, 25% Merino, 37% Cotton
This is the one I was worried about messing up when I heat set them in the bain marie. My dyeing techniques come from dyeing cellulose fibres and have very little water so I was worried about burning these guys if I didn't use enough water or losing the colour if I used too much, not to mention felting them! But they turned out beautifully - like little rainbow cloud puffs. I think next time I dye some I will use a steam pan and see how that goes.
The colours blended very well and are soft and fuzzy like the yarn but still strong, not muted. The speckles bloomed like they seem to on all fluffy yarns. The black dye broke and came out mostly purple but it still looks cool.
Pima DK Air
100% Pima Cotton
This yarn is a single ply construction meaning it is cotton 'roving' with a thin thread around it to keep it together. It is soft, squishy and delightful but I think it would need gentle care in whatever you made with it. The colours are softer than on the plied Pima cotton and have a water colour effect which is especially evident in the speckles which spread but look really cool. The other thing to note is that in many places the colour didn't penetrate all the way through creating a slight light and dark effect.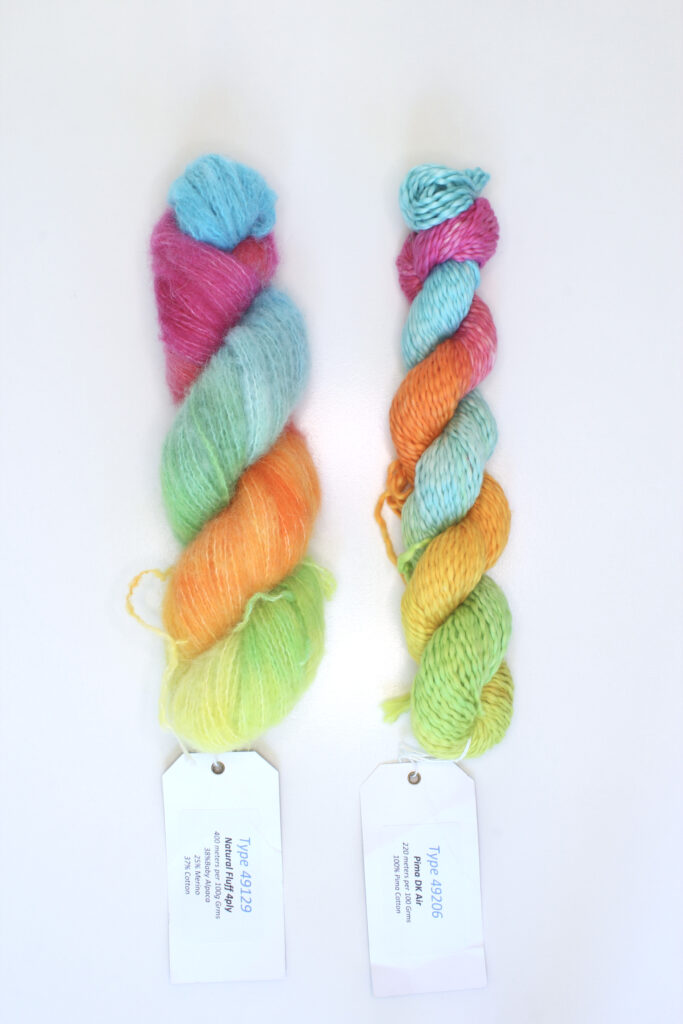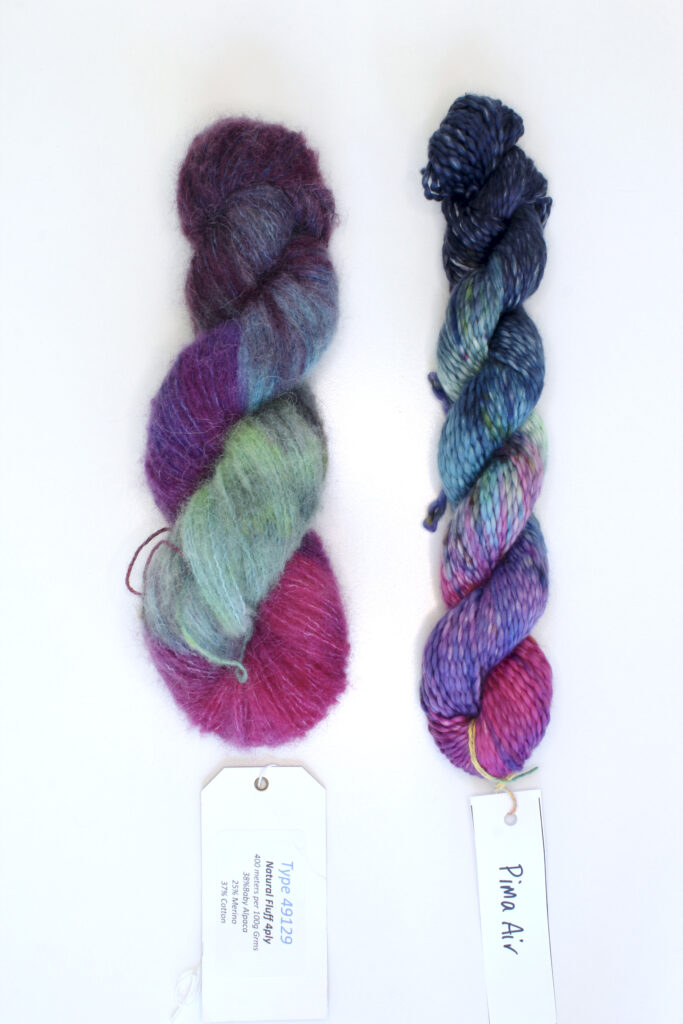 Wool Cotton DK and 4ply.
50% SW Merino, 50% Cotton
This yarn has a matt finish and feels more like a cotton but has a bit more squish to it than straight cotton. 
Dyed the protein fibre method.
The colours appear paler and have an interesting heathered look because the dye mostly adhered to the wool component and not the cotton. The colours blended nicely and the speckles are soft but defined.
Dyed the cellulose fibre method but using bicarb soda instead of soda ash.
The colours are much brighter and more solid - it looks like both the cotton and wool took up the dye. The speckles bloomed and blended into the background colour quite a bit creating more of a tonal variation than true speckles. The colours blended very well.
*I also popped a tiny bit of Bendigo Woollen Mills cotton in with the galaxy batch to see how it would dye up using bicarb soda. The colours are bright but again the speckles spread. My guess is the bicarb soda does't cause a quick enough reaction to set the colours and create a good speckle. I may try some Wool Cotton with soda ash and see how it fairs!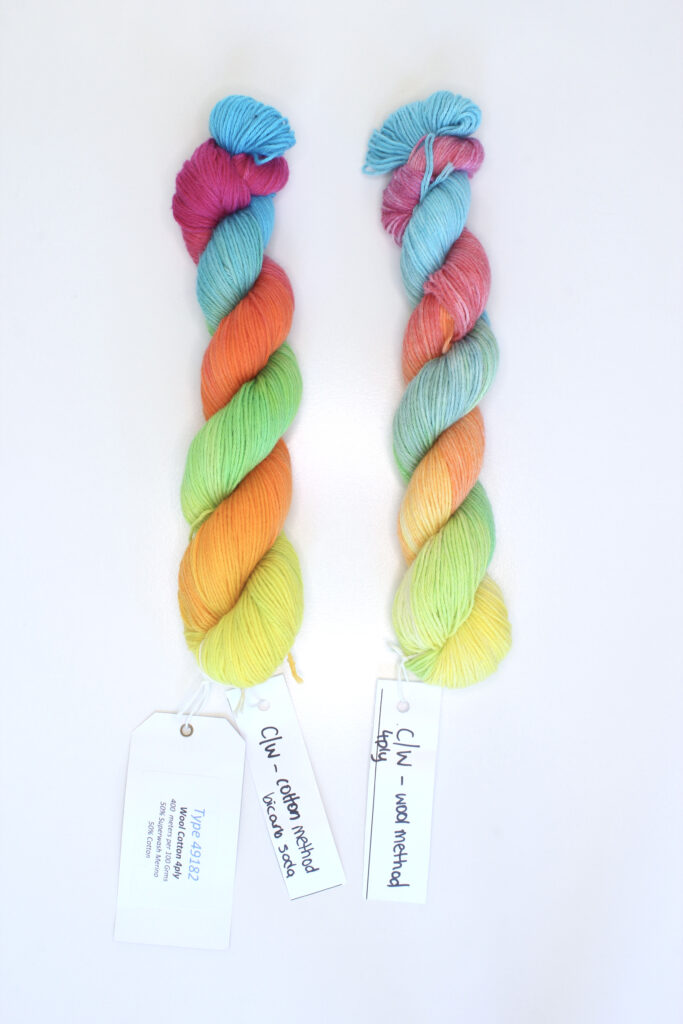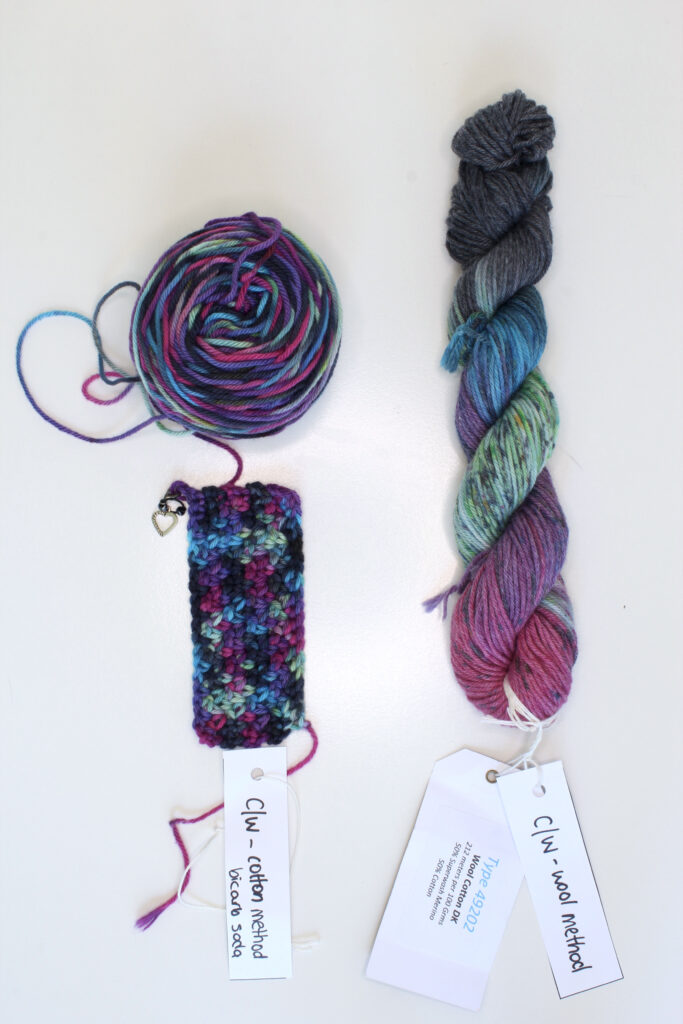 Tencel DK
100% Tencel
Wow, this stuff is shiny! Even before adding colour the Tencel is glowing and after dyeing it's almost like there's a light permanently shining on it! The Tencel took the dyed beautifully and the colours are vivid and saturated. The black in the galaxy is very black and the speckles reasonably sharp but have amazing colour.
Vegan #1 Blend
30% Linen, 70% Natural Bamboo
The yarn feels like linen but slightly softer and has a bit of a shine like bamboo. It took the dye very well, the colours are saturated, though they all have a slightly 'natural' look from the off white colour of the linen, especially when compared to the pima cotton. The speckles spread but not as much as on the Wool Cotton.
DK Pure Cotton Yarn
100% Australian Super Cotton from Full Circle Fibres
This yarn is made of lots of fine threads twisted together and I feel like it will soften with time like linen does. The colour is beautiful and pretty bright which I honestly didn't expect for a minimally processed fibre like this. There are random little white flecks where the dye didn't penetrate all the way through but I think with longer presoaking and more effort to ensure saturation this issue will go away. The speckles spread a lot but not as much as the Wool Cotton.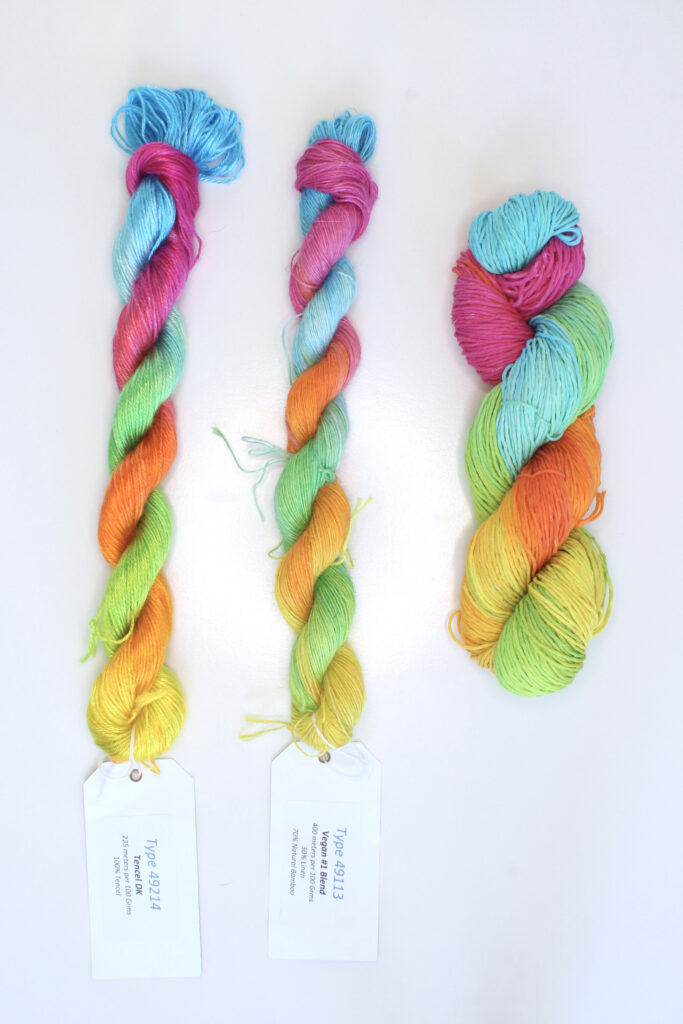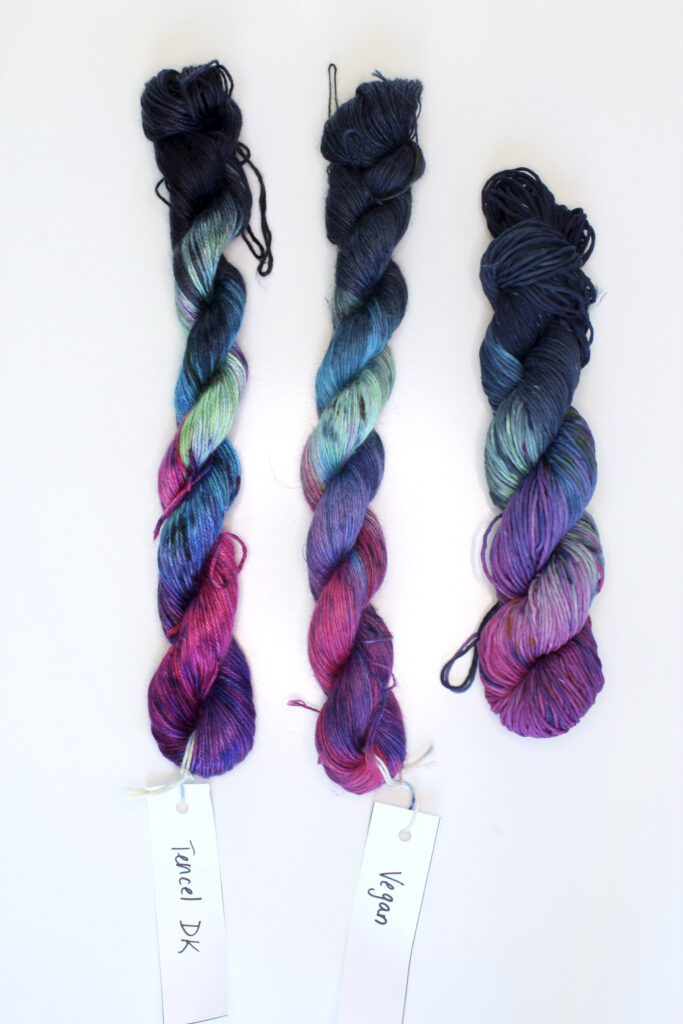 Cupro
100% recycled cotton
This yarn is like a cross between Tencel and cotton. It is made from waste cotton (cotton lint) that is a by-product of cotton processing. This lint is used as a cellulose source (the same as wood pulp is used to make Tencel) in a closed-loop system (so the chemicals and water are reused over and over again) to make fibre that is smooth, shiny (not quite as shiny as Tencel) and with gorgeous drape. 
And just like Tencel it took the dye amazingly. The colours are bright and almost glowing and the speckles are sharp. The colours blended nicely and the black is dark but shows the speckles over it well.
The photos show Tencel vs Cupro (right in Summer Rainbow) and Tencel vs Pima Cotton vs Cupro (below in Galaxy).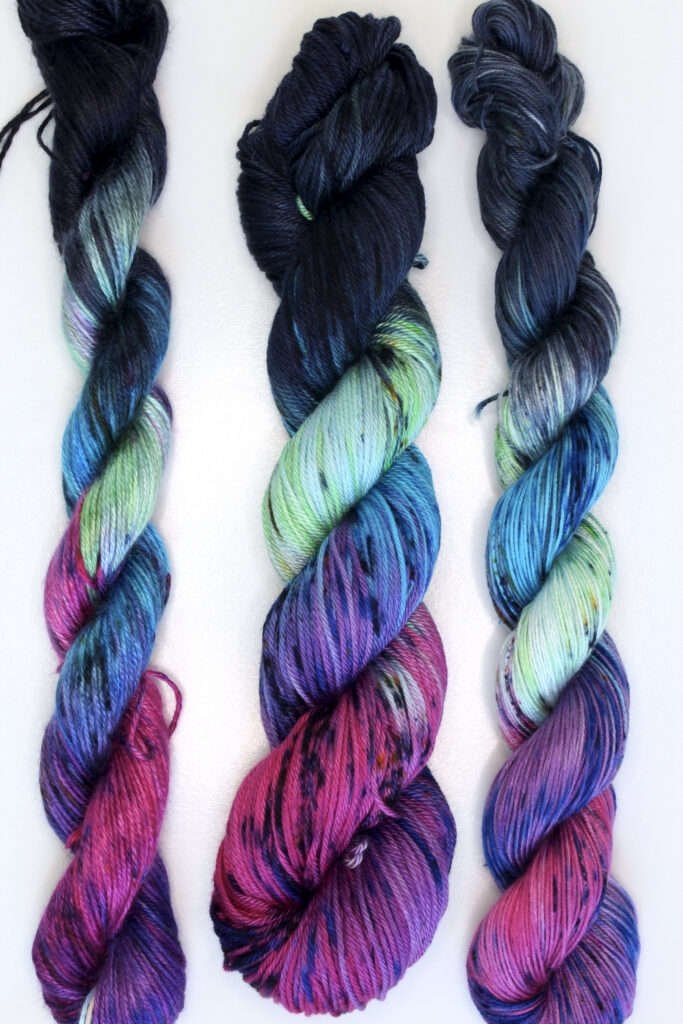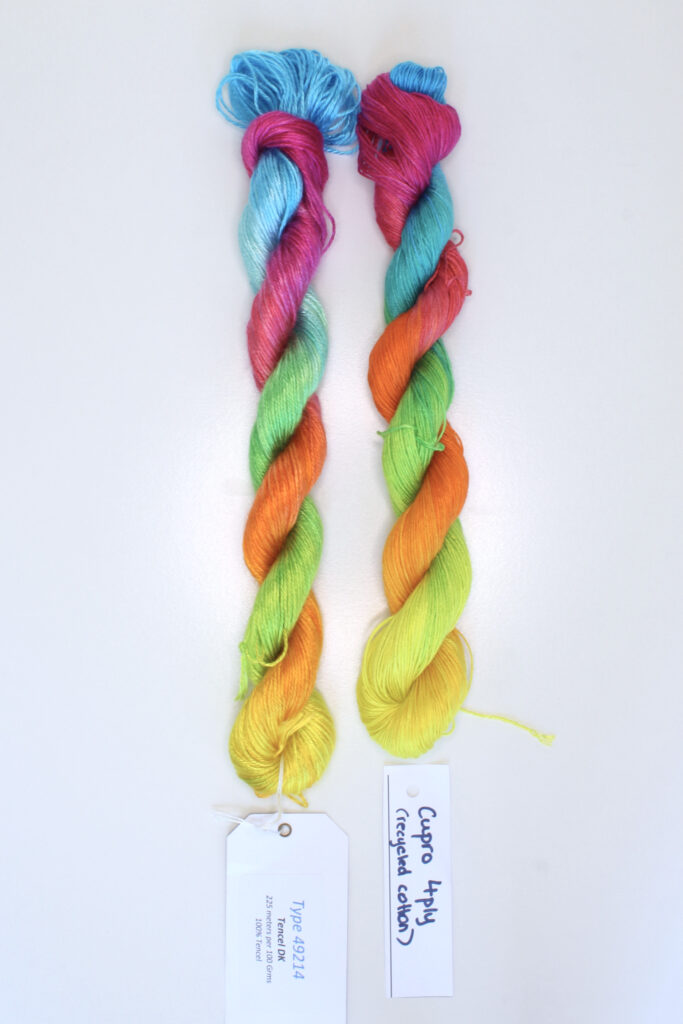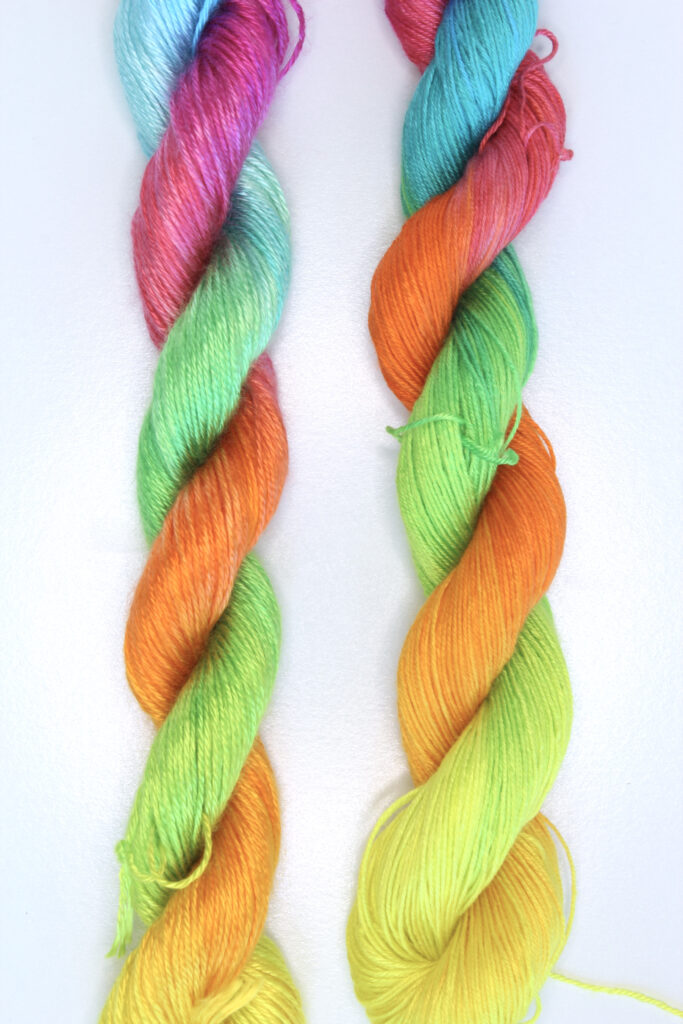 So now that you've made it through all of that what base would you like to get your hands on?
I currently have 2kgs each of the Natural Fluff, Cupro and the 4ply Wool Cotton to add to my shop as dyed to order bases because they're a bit different to what is normally available but I'd love to add some more.
I'm thinking the next ones will be some of my favourites the Silky 50/50 DK and the Pima DK Air but I would love to hear your thoughts so leave a comment below or send me a message.
Cheers,
Mikaela xx